Some engineers from Audi came up with a jet-powered eFoil surfboard.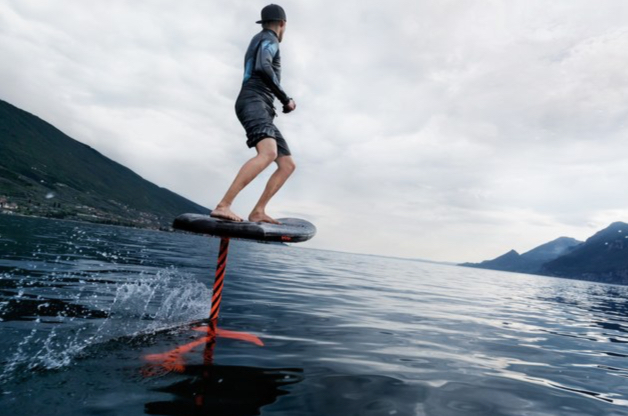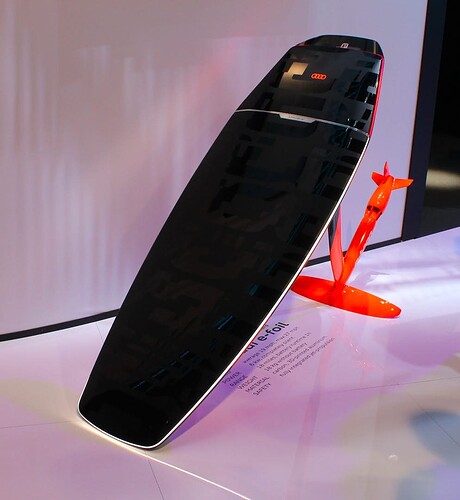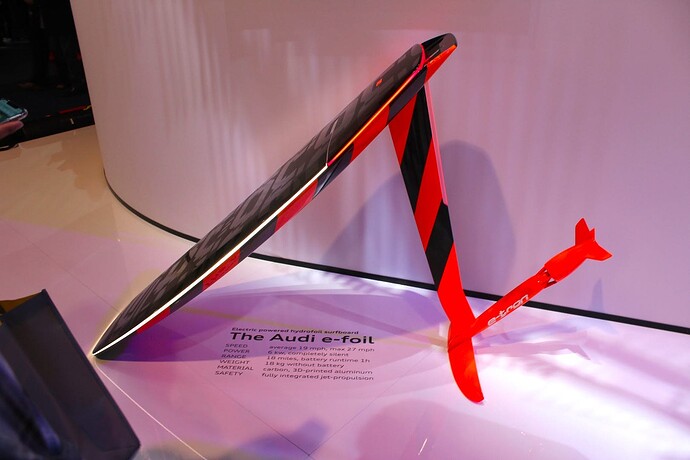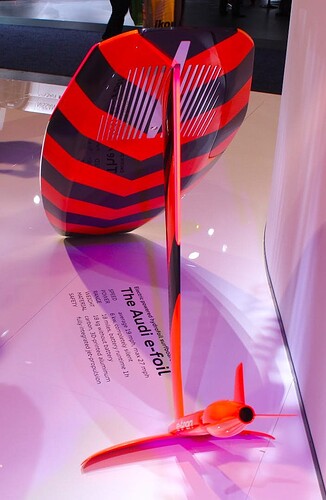 I saw the news but is it for real? when will production start and what will be the price? or it's just another Tesla surfboard thing?
Yes, our Jet eFoil team met Franz Hofmann (e-Tron creator) at the CES show in Las Vegas last month. It's a very cool looking project. They do have many e-Tron products as well (Car, Electric Scooter).
It was nice to finally meet a fellow Jet eFoil Builder who shares the passion and focus on safety, sleekness and the unique ride jet efoils offer.
I'm afraid the price will also be combined somewhere around 20000 EUR.
Looks like they changed from prop to a jet system and started preorders
What do you think?
It has a built-in GPS and gyro. That it would use automatic longitudinal stabilization like the Segway? For a beginner about a blessing, for an advanced useless. Transverse stabilization would probably prevent a good turn. The final price is close to 16000 € with VAT and shipping.
no it does not self balance… it just says " gps & gyro
Fully equipped with many sensors, your e-tron foil helps you learn more about your ride. We use a gps to evaluate motion data of the boards and a motion sensor to enable certain functions. Through the many sensors it is possible for us to make your sports equipment better and better in the future.
"
but i saw levelfoils are making a self balancing efoil. If it is useless or not, that's another question.
Onewheel is self balancing but i hardly find it useless or boring, it's one of my favorite boards and beats any efoil or jetboard by far in fun and practicality. I even go to throw away trash only on onewheel, I ride it every day now for 2 years, over 2500 km!
Thank you for sharing. It's interesting an innovative concept but I have my doubts still…
1 hour range is a BIG step backwards. (it's like Waydoo and Etakuma and those cost 2 times less. We see other efoils are pushing for longer riding time, some like Waveshark and Artfoils offer up to 3 hours (in theory) and fliteboard and lift can reach up 2 with HA wings probably.
Their website states "Maximum range and riding time depends on riders weight, weather conditions, flying height and wing setup.
With a moderate driving style and a rider weight of 80kg, a driving time of 1h is common"
Well if we are 90-95, we get even less?
"More safety at the expense of range." The time will tell but this statement is questionable. I have not heard any danger of Flite or Lift propellers. Infact, the real danger can be when you are hit by the wings and when things like seaweed gets stuck in the jet. This never happens with Lift (prop) but always happens with my jetsurf (jet drive). So having a jet looks for me as a disadvantage in places where seaweed is a problem.
Lets see how it goes but I am happy with more boards on the market and hopefully new approach. The slick engine line up with wings looks really cool.
Very good cant wait to see it!
It took them a while to come to market. It must have beed challenging to have an efficient fully shielded propeller, but I always had fear of the open propeller from other eFoils.
I hope they will be successful and change the industry to safer eFoils.
World premiere: The first Audi e-tron foil by Aerofoils unboxing. Now at e-surfer!
More info about the board at: Audi e-tron foil by Aerofoils at E-Surfer Shop
Video Chapter:
0:00 Introduction
1:03 The eFoil Board
3:01 The accessories case
3:53 The wings
4:56 The propulsion kit
6:13 The remote control (part 1)
7:19 The battery
8:17 The assembly
10:42 The remote control (part 2)