More pictures and infos at:
Wow. Looks great.
I NEED ONE



Hi guys
I have to say I have always liked the Onean team. They are great guys and they really have put in their time. The Carver unfortunately was just never enough for me though. There was always something missing and it was called speed and power. I appreciate it was and still will be enjoyed by smaller and lighter people though.
The new Carver X really impressed me when I rode it though and I absolutely enjoyed it. The board was fast and fun with my 90kgs. Ive ordered one for myself as a personal board because I was so impressed with it. We have also ordered for most of our jetboard branches so don't hesitate to contact us if you want to try one of the boards before you buy one.

If you need any further help and advice then don't hesitate to contact us. Our prices are the best and the service you get is like non other. Backup and support never ends so join our jetboard family. We put a lot of time and effort into this industry and sharing the information we get so your support is also most welcome and it helps us continue.
We have a waiting list so get on it now. Our orders are placed and delivery should be around mid to late July. Boards are selling for 8,499 including two batteries. Price excludes VAT and shipping.
visit: www.jetboardlimited.com
contact: [email protected]
Many thanks and kind regards
Wayne
8,490.00€ (VAT not incl.)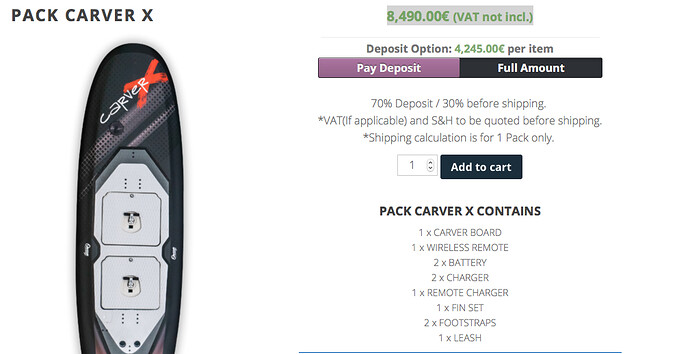 http://www.onean.com/product/pack-carver-x/?utm_source=Contacts&utm_campaign=6e2464241c-Limited_time_offer12_1_2017_COPY_02&utm_medium=email&utm_term=0_3fd4bd3db4-6e2464241c-452388281&mc_cid=6e2464241c&mc_eid=34708b677c
It was really fun to be first to try it and big thanks to Onean team for this opportunity. Now they have a full set of Carver for under 85kg and Carver X for over 85kg. From my experience carver is better for under 75 not 85. I am 82 and carver was not fast for me. Carver X however flies really fast, almost 3 times faster!
Great thing is the battery is the same!
The total weight (almost 40 kg) will be problematic, so the maneuverability will be further reduced compared to the already awkward Carver. There will also be a problem with Foots straps because the front and rear screw holes are too far apart.
good memories… this video originally took me into jetboarding niche and made me preorder carver

i had to wait 2 years though lol
The video above is from 2015 which is kind of impressive, but at the same time reminding how long it will take to make it a mass market product. Thanks for sharing!
It's impressive but old carver was never nearly as fast (at least for 80+ kg riders)… Only now new carver x and carver twin are fast