FliteFoil is another electric hydrofoil company which wants to launch the Manta eFoil.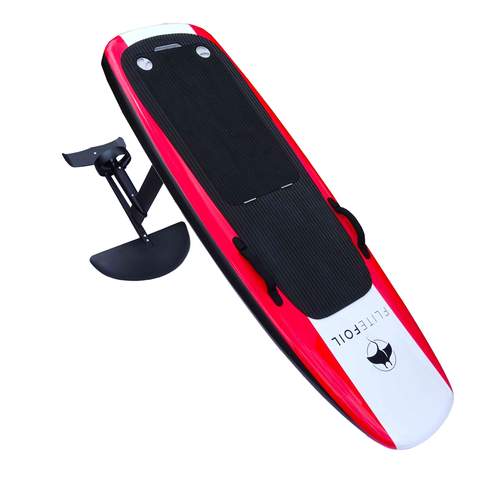 What do you think guys?
Thank you for pointing it out Jane… Well yes, scam is a strong word but at the end of the day most of these whitelabelers are going out of business and most naive buyers will end up losing money, so scam is a right word for it, even if they might have good intentions from the start.
What is your opinion of Cimi Sports efoil?
Wouldn't waste my time on it since they use the Maytech remote, anyone on efoil.builders can tell you it's junk and will eventually break if you submerge it in water. Maytech customer support is also non-existent. They won't replace anything under warranty, instead they send you a coupon for a few dollars off and tell you to buy a replacement. Exactly what you'd expect from China.
I am following this forum since a while and I am really glad it was setup.
YOU GET WHAT YOU PAY FOR!
Look here around and see the feedback from people who bought cheap products. It is a waste of money and will cause you pain. Trust the established players.
These boards have its price and if you are not willing to spend this amount, please spend your money for something else. In your interest.
I tried to contact them and a guy named "quinn" says its all legit. But no last name. Website is out of Panama, and wouldn't give me a straight answer on any questions. PHONY AS SHIZZ in my opinion
I purchased a Manta Efoil from Quinn, who is in Cleavland Ohio, and am very impressed with the quailty of the board and foil and have had excelent service from Quinn. Only had it for a week January 2021 and am not going to Mexico this year so will have to wait till spring to give it a try. Both my wife and l foil and have tried just about everthing out there in a kite foil. My favorite is the Lift, we have 3 and l also have 3 Moses. l plan on making an adaptor so l can run my Moses 633 wing set on the Efoil, however the wing set that comes on the Manta looks very good. l have built well over 100 foil boards and about 20 foils so l have an idea what l am talking about. This is not a Phony Scam. Quinn has answered all my questions, the manual sucks but they are getting a better one done. Do not know about the durability of the controler but l guess l will find out, works fine at this point in my living room. Dave
Thank you for sharing David. Could you post some close shots of the Manta efoil and it's battery and remote controller for everyone to see it better and understand the quality
Check out this vid https://youtu.be/xX96-sAGqfw This is the setup vidio and is the exact board l recieved. Shows the board very well. I am not trying to push these but l did think Quinn needed someone to back him. At about 1/2 the cost of the Lift l thought it was worth a try. I have bought enough lift products to become friends with a dealer in California who would have given me a small break on the lift, there is not much room on the price but still went this route. Am going to work on waterproofing the control and the way the bolts are setup on the fuselage it will be possible to make adaptors for both my Lift 150 wing and my Moses 633. May make a new mast for the wing set that came with the Manta and try it on my new wingboard that l just finished but have not had a chance to try. If you need any specific shots let me know and I will take them Dave
Thank you Dave. It looks good, however I assume it is very huge, heavy and very slow based on parameters and only good for complete beginners. Maybe you will adapt better wings to it and it needs smaller shape for sure.
I also suggest them to get rid of "flite" from their name to avoid trademark issues with fliteboard.
Good luck!
Thanks, l am a novice to the Efoil sport and was planning on making a smaller board after giving this a try. The board is 65 in long and 26 1/2 in wide, 4 in thick at the tail and looks like it is all carbon fiber. I can make a smaller board that would have less swing weight and should feel quicker but the weight is in the electrical components. Looking at the Lift, the components appear to be much the same and would be similar in weight. A smaller board would not change the weight much. The mast is carbon and l am sure my Moses 633 will be faster than the stock wings as it is much faster than my Lift 150 maybe even have a a higher top end than the Lift 110. Do you have any info on the demensions of the Lift board or anything else that might be better, not many details online. l doubt l could save more than a pound or two with a smaller board so any suggestion on weight saving would be appreciated. I can strip this board or just give it to my wife and find something better for myself if l like this type of foiling.
Just did some weighing on a bathroom scale and the complete setup is 66.8 lbs about the same as the Lift. The board is a bit shorter and narrower than the standard Lift and also smaller than the Flite board. The pro model Flite is smaller at 5ft and l will make mine a little smaller than that.
Dave
Is https://flitefoil.com/ and https://www.mantafoils.com/volt-efoils same thing or not? I am getting really confused both sides look different but both have similar logo and say "manta"
They replied
Blockquote
No association with "mantafoils.com". It appears that they changed up their website name. It looks like it used to be thekitefoil.com (it now redirects to mantafoils.com) I think they are located in Europe and have just finished up an inflatable efoil prototype. We are shipping from the US. Happy to see more affordable efoils coming on the market. It makes the wonderful sport much more accessible!