Be careful with that. It's been around for a long time but the quality is not there from what i heard.
Yes, I have seen videos lambasting their gas powered jet boards. Wondering that, since these are electric and have way fewer moving parts, the likelihood of a decent product would be more likely.
Would like to see a review of this board.
Is it electric ?
Can't really see. Is there a link?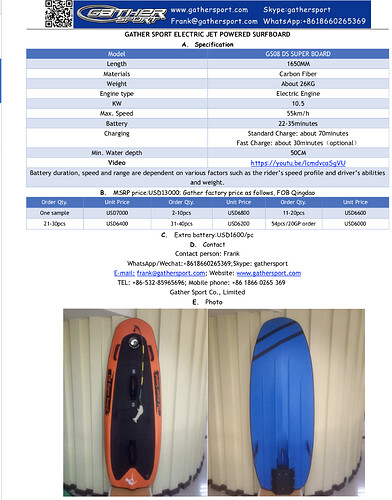 Hopefully this one is better. Here is a link to the Gather Sport website: http://www.gathersport.com/proview.php?id=207#.WtZCmy_Mx-U
Yes, this board is electric. My sense is that this company is the Harbor Freight of Jet Boards. Would love to see a review of this board.
There must be a dealer servicing and repairing boards in Europe/USA else it's too much risk receiving a board that quickly breaks and there is no way to fix it.
Also the specifications look wrong. Weight 26? It must be without battery? The board looks big and heavy.
Speed 55? That's faster than jetsurf for electric board that looks so big and bulky? I am not buying it. Maybe for 55kg rider, but we need to know speeds for a regular 85kg rider.
35 minutes riding time with 30 minutes charging time (fast charger)???
They must be kidding …
I tried to email them with the email on their website, but the emails are bouncing back

I took a second try with the email form. Let's see.
Very limited information on their website. Under "specifications" is only a "Download" button which didn't work for me (no link) …
But I found following video on Youtube:
This is nowhere near 55km/h, more like 25 and the person is not looking heavy.
you tried this email?: [email protected]
Hopefully someone can convince him to send a sample electric board so it can be tested. Looks legit.
Yes, this was the email which was bouncing back 2 times.
I found this for you guys if you are trying to reach frank…
whatsup +8618660265369
+8653285965696
mobile
+8618660265369
Hi guys
Dont throw your money away. These guys have been around for years and were making jetboards before most of the European manufacturers. They have many different websites, names and brands. They make jetboards, jet skis and boats. All are terrible. We bought some of their boards about 3 years ago and they are the biggest load of rubbish you could ever get. Most didn't work from day one. We couldn't keep them running and they are not even repairable. Most the time you don't even get the board in the picture. We have a long list of unhappy clients that lost their savings and dreams were shattered. They take advantage of innocent and naive customers. Once they have your money and you try contact them for spares or with complaints they all forget how to speak english and you end up with a worthless piece of junk taking up space in your garage that serves as a horrible reminder of why you should never buy a jetboard thats not tried and tested and sold through a known and reputable company. We learnt the hard way and have many nasty reminders of how not to do business and buy jetboards.
Wayne
Looks like they have fans (or better disappointed customers) everywhere:
This page is made to warn people about doing business with Gather Sport.
They deliver really bad products and show no cooperation to get to a fitting solution for their problems.
We have HUNDREDS of emails, pictures and text messages that shows how bad of a company they are. Please be smart and DON'T buy there! Email to [email protected] for more information.
Beware they keep changing names / whitelisting… New name is SURFTEK Aquasurf jet surfboard