3-1 in new Chinese (?) efoil / surfboard xfoil.com launched through indiegogo. What do you think guys?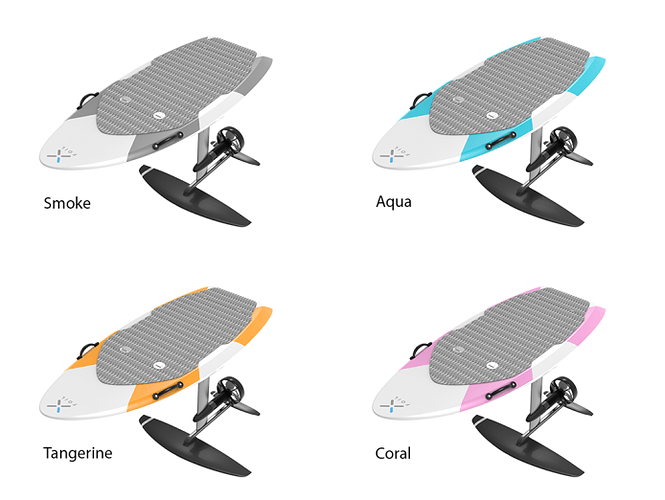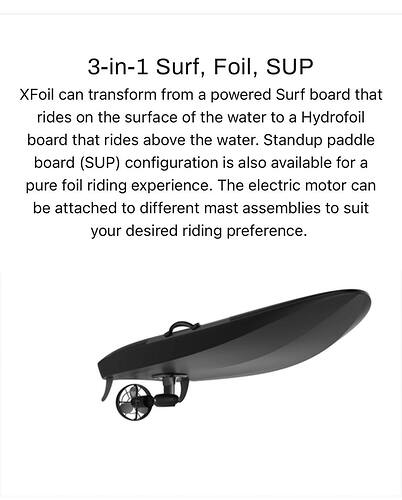 Their main company seems to be doing well in electric products but I dont see anything related to water use
Who knows about their electronics , but a board floaty enough to SUP on would be huge for Foiling.
I ordered one yesterday with the surf thing! Cant afford those jet surfs and fliteboards. It is a new product, so I was skeptical at first, so I called them and asked more about the parent company, seems legit so they must know what they are doing. And speaking of manufacturing, even Iphone is made in china so that is not concerning to me. Also it looks sporty and cool!
Wow over 250k already invested into their indiegogo… another waydoo story is about to start…
Difference is Waydoo was founded in China. This thing seems to be made by an established American company. They have more to loose more than Waydoo if promised is not delivered. I just want my board!
The XFoil concept looks good, but I'm missing a lot of information. E.g. the information about the batteries is totally insufficient, no capacity is mentioned, etc. The listed endurance times are valid at 30% throttle. This is ridiculous, maybe usable for kids. There is no information on whether the Smart Controller has adjustable top speeds, which is necessary for e-foiling as opposed to jetboarding. And no hint of the price of shipping.
I tried to reach XFoil and received a common silence. It's typical for this kind of generic companies to collect money and run away or release a low quality product that people will struggle for years
€1,016,719 EUR COLLECTED!
it's shocking the amount of people that purchase things without doing any research. We'll have waydoo 2 story here unfolding soon…
Remember guys there is no such thing as "Same but for 1/3 the price "… The lower the price the more issues you have, the less money for post sales and guarantee and the faster whole thing goes down.

That is an awesome amount for an efoil full of DIY parts… Check the motor, propeller a.s.o It´s a modified maytec/flipsky 65162 motor you can order on aliexpress…If you calculate the backer price with shipping tax&customs there is not much difference to a well establised takuma or waydoo…
I tried to reach out to the xFoil CEO, Paul Lowchareonkul as well. As an early backer of Waydoo, I reviewed their product and have had good communication with the team. It would be great if XFoil is a success, but poor communication and no updates on the campaign page nor updates to backers is a red flag. Curious if they reach out to you Jetsurfingnation as you have established yourself as an authority in the efoil and jetboard space.
Curious if they reach out to you Jetsurfingnation as you have established yourself as an authority in the efoil and jetboard space.
I concluded they have no interest in independent honest reviews. I reached them again but response was - :you can buy the product on our kickstarter… lol… no thank you… That's a red sign for me, they are not looking forward building a brand.
I assume they are not interested in anything rather than quick cash grab, so I would not recommend this at this time.
I also just checked their video section, it's completely empty (since january it's been almost 5 months, more than enough time to record some videos) Videos | XFoil - Surf or Fly (says coming soon)
People who never use their own product usually don't succeed in this industry.
I am xfoil backer and communications are as good as any other small company. Staff is limited so you might not get in touch being in a different time zone, try Email? They are hesitant to give concrete info yet but I have researched the company and their Indiegogo history. As an independent reviewer, you should wait till customers start to get their products. The competition will only things better. Keep on surfin mate.
Alright, we look forward to hear your first feedback once you receive it!
I hope I am wrong and they will succeed!